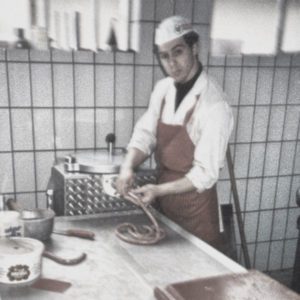 We are all familiar with various salami and other preserved and dried Italian charcuterie products. They are joined by an exciting brand – Salsicciamo. Whilst it is aimed at food service, it is also available to retail customers. Salsicciamo delivers authentic and flavoursome Italian sausages here in the UK, made by Italians in the traditional Italian way; therefore offering the freshest possible produce direct to the UK market. Salsicciamo, a Slow Food UK endorsed brand and winner of the prestigious British Sausage Week Gold Award in 2015, followed by Great Taste Awards in 2016, 2019, 2020 and 2021. Our sausages are the result of some careful strategic-thinking and market research, undertaken 2 years before its launch by its Sicilian founder, Giuseppe Roberti, a skilled butcher in his own right. Born in the UK, Giuseppe Roberti went back to Sicily when he was 10, whereupon he started to learn more about the production and preparation of meat products. It was back in 2014 when he purchased a 'one-way ticket' to come back to the UK that he developed his vision of bringing some of his families recipes and sausage-making traditions to the ever-growing market here.
Giuseppe Roberti's main task for the future is to educate buyers and consumers when it comes to eating a fresh meat product that has been produced with the benefit of an Italian artisanal approach. Due to the product's make up, it is also gluten free, a considerable advantage in today's market of health and diet-conscious consumers. During the development and trial stages of these premium sausages, meat was sourced from Sicily and mainland Italy. However, we discovered that the raw pork ingredients that gave the best results were from fresh, UK reared pork. To some the use of British meat might somehow negate the ability to claim true 'Italian credentials', but the UK's reputation for high quality meat and livestock management practices is widely respected. Giuseppe Roberti is also keen to draw attention to the fact that it is the Italian approach and his family recipes and flavours that are the point of difference, enabling us to deliver a distinctive product. The Salsicciamo range is also characterised by the use of organic Sicilian sea salt, natural casings, reduced fat content and made entirely from selected premium cuts of pork that are all additive-free.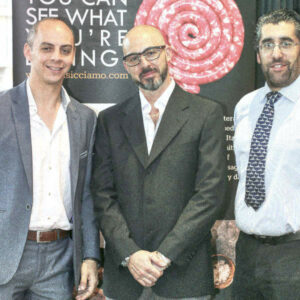 We are artisan producers of authentic, fresh Italian sausages made here in the UK, thus guaranteeing products made on a daily basis from fresh. Our mission is not only to sell a product of superior quality with authentic flavours but more importantly, to inform our clientele about the goodness and versatility of our products. Salsicciamo is not a run-of-the-mill sausage. We have developed a range of products eliminating any type of artificial ingredients and our promise is to maintain the high quality and standards together with freshness, respecting and maintaining our old family traditions.
100% SELECTED PORK CUTS
The quality of the meat we use is imperative. When developing our products, we were adamant on sourcing premium cuts of pork from UK farms dedicated to animal welfare. Our pork is carefully inspected before mincing, ensuring that Salsicciamo only uses the finest raw material.
HAND MADE
We are ambitious artisans who respect true Italian traditions, undertaking most processes by hand and priding ourselves on fine attention to detail. Our staff and their passion ultimately make the difference! We trim the meat and then link, prick and encase the sausages all by hand.
PREMIUM INGREDIENTS
No expense is spared on our ingredients. Everything is meticulously selected to guarantee our sausages are the finest you can buy, using premium ingredients such as organic sea salt from Trapani (Sicily).
EXTRA LEAN
We separate the lean pork and the fat by hand. Our sausages contain a vital balance of 10% fat (of which only 3% is saturated). This is essential to ensure a high-quality lean product, giving enough moisture and succulence to the sausage during the cooking process.
GLUTEN FREE
Our sausages are made from the finest quality fresh meat! NO bread, rusk or cereals are added to our mix, making Salsicciamo the ideal gluten free product for the health-conscious consumer.
NATURAL CASINGS
Many sausages in the UK are made using artificial or collagen casings. Not Salsicciamo! We only use 100% natural casing, guaranteeing the final product is genuine, no nonsense and natural from start to finish.
To be recognized as a premium producer and to receive awards for our products doesn't only underline the fact that we produce quality, but moreover it drives us to constantly improve for the benefit of our customers.